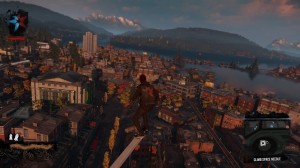 The next installment of the inFAMOUS series has arrived and wow is it fun. Though not really a direct sequel Second Son has a reference or two the past story, this one picks up 7 years after the death of Cole. In this iteration, the Department of Unified Protection is charged with rounding up all the Conduits, now dubbed "Bio-Terrorists, by any means deemed necessary. You play as Delsin Rowe, a Native American who has a penchant for mischief—like graffiti. Delsin fortunately is usually busted by his brother the Sheriff.
Second Son is a beautifully done open world where you can smoke dash through vents to get access to rooftops, dash across gaps or just run on foot for a good length of time. Yet the world isn't so large that it gets to be tedious to get anywhere. Your map clearly marks all your objectives from main to side missions. The game has a total of three powers that you get to use that can be upgraded as you level and as you collect shards. The powers, though named and colored different are all pretty similar to each other but that doesn't detract from the satisfaction of destroying a DUP structure. Featured in the game is a Karma system, which will sway depending on how you run your character on the good side of things or evil.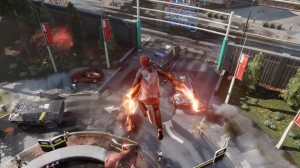 Super Punch did a fantastic job not only with the game play which feels very fluid and intuitive, but also with the amazing graphics and voice acting. Little things like the city scape below you when you're standing on a really high structure or as you stand around and just watch the NPCs react to you. One of the things I was really impressed with graphically speaking, was the facial expressions. The voice acting is great, especially all the snarky comments from Delsin which reminded me of Drake from Uncharted. Sucker Punch real brought life to the characters.
There's not a lot of variety to the side missions but you do get a very satisfied feeling upon completing them. One in particular I didn't care for was finding the hidden DUP agent in the crowd. You are given a photo of him to use but the NPCs appearance are all very similar, which can cause a problem. However, being side missions you don't have to do them and can just stick with the story itself. This pretty much boils down to the X-Men. There are super powered humans out there that regular humans and governments fear. Er go, they must be controlled or eliminated.
InFamous: Second Son
Playstation 4
Outstanding graphics, Great voice acting, Fun gameplay
Could use a little more variety
Game Type

Action-Adventure

Publisher

Sony Computer Entertainment

Developer

Sucker Punch Productions

Release Date

Mar 21, 2014