Through out the history of video games there are a few characters and games that will always be at the top of my A list. Regardless of your opinion on the Wii U, you have to admit Nintendo is king of video game nostalgia. Many of the major characters in video games have started on Nintendo's platforms over the years. Zelda is one of these games and Link is one of those characters.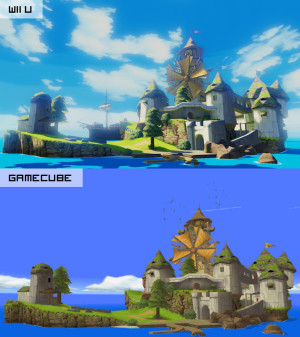 Nintendo re-released one of my favorite Zelda games, The Legend of Zelda: The Wind Waker, but with incredible new clarity and performance. Most HD remakes get released with bumped up resolution and not much more. The Legend of Zelda: The Wind Waker HD has been completely remastered with not only updated resolution but new character models, shaders, lighting, effects and more. It's really amazing when you compare the old Wind Waker to the HD version because in my memory, I don't remember the original running so slow and looking so low res, then again it was being played on a CRT TV. Where Wind Waker HD really shines is the locked 60fps it runs at on the WIi U. The colorful world of Wind Waker really comes to life when running at this solid of a frame rate. Animations and effects all look buttery smooth. On top of the visuals, 60fps makes the gameplay a little easier on the hands being that they're still exactly like they were back in 2003 (North American release year).
Wind Waker plays a lot like it's predecessor, Ocarina of Time, which incidentally was also re-released on the 3DS. You have "Z" lock-on, strafing mechanics, lack of jump button, unlockable items in order to progress, and those slightly frustrating boss battles. With most of the newer Zelda games, the controls are a love hate thing with me. On one hand, I like how simple they are to pick up and run with. On the other hand, they're very antiquated and by that I mean there's an old fashioned "stiffness" to everything. There were times where I would go to straf an enemy only to roll into them and take damage instead. It's almost like a canned animation thing where the animation has to run completely after starting the characters particular "move". This isn't specific to Wind Waker and most newer Zelda games, if not all, share this particular control scheme. I understand Zelda games aren't meant to be platformers but I feel like Link would benefit greatly from a jump button instead of relying on an unlockable item for him to reach higher ledges. This isn't a new complaint of mine and I've been saying this since Ocarina.
Thankfully, like the controls and gameplay, the story and all it's convolution hasn't changed one bit from the original. If you've played the original Wind Waker, everything plays out exactly the same in the HD remake.
Graphics are never a reason to rebuy a game you already own but nostalgia is a different story and in the case of The Legend of Zelda: The Wind Waker HD the upgrades are well worth the cost of the game even if you own it already on GameCube. It's that well remastered and I would suggest any Zelda fan who owns a Wii U to pick up this game if you haven't already.