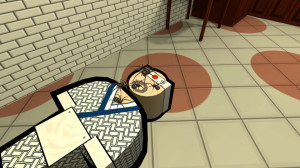 When I first sat down to play Jazzpunk I knew very little about it other than it looked bizarre and had a really funky cold war theme to it. The visuals are sort of a mix between Pyschonauts, Toe Jam and Earl, and Jet Grind Radio all put into a blender and then served in a martini glass. It's not often you see visual styles like this and I really enjoyed it. It was clean yet thick with a definitive style throughout. Jazzpunk is a game that I'm glad no one spoiled for me because the funny is in the content. I'm going to try and make this a brief review without spoiling the funny.
What Jazzpunk really offers up is a bizarre, alternate-reality, cold war like story jammed packed with twisted pop culture references that pushed me to do as much exploring as possible just to see what weird innuendo would be around the next corner. Think 1984 meets James Bond but written as a comedy and you'll have a good idea of what Jazzpunk's story has to offer. And if I'm being honest, I loved every minute of it.
Jazzpunk's gameplay is sort of a collect of mini-games and interacting with character driven NPCs. I don't want to give anything away but it was almost like a 3D version of wario-ware – Just as weird and just as fun. If you're not trying to "degauss" pigeons, you're probably being sucked into some alternate-alternate-augmented-reality mini-game where your task is thick with references from other video games.
If I had to list one complaint about Jazzpunk it would be it's length. I took my time and enjoyed the scenario but even still I finished Jazzpunk in a little over 4 hrs. If anything, Jazzpunk was the funniest 4hrs I've ever played in a game.
Jazzpunk is currently $14.99 on Steam and well worth every Penny. If you're still not sold, check out the trailer below.
Very modest hardware was used in this review:
Windows 7 Home Premium
3GB of RAM
Quad-Core Q6600 Intel CPU
EVGA Nvidia GTX 750 Ti