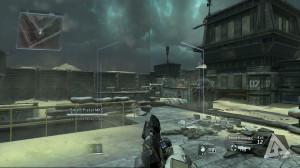 With Titanfall slated for release on the Xbox 360 tomorrow, there's no surprise that there have been a few leaks of gameplay videos and even comparisons to the Xbox One version. I'm not going to sugar coat this, though I shouldn't have to since the Xbox 360 is from 2005, the 360 version looks pretty bad in comparison. It also runs at 30fps vs Xbox One's supposed target frame rate of 60fps but even the Xbox One misses this mark frequently.
Even with these downgrades the game still looks, and appears to still play, like Titanfall. Obviously, we'll have to wait until tomorrow to get more details on that. Check out the videos and screen comparison.
Anyone looking to get the 360 version should know that there is a mandatory install of 1GB so make sure you have to space to play Titanfall, though I suspect this isn't an real issue.