The Writing on the Wall
Posted on January 7, 2015
I get asked a lot about my opinion on Destiny as a game, an "MMO", and as a told story. If you follow our podcast or have read anything I've ever written about Destiny, you already know I'm a bit critical about it. That critique has morphed into many things yet I still play the game. That speaks volumes about… something and everything. But where is Bungie taking this grind?
The Nerfing of Destiny, Act I
At this point, most of my fellow guardians have done this once or even twice already. Each has their own personal gripe with, or praise for, Destiny. In the beginning, their complaints echoed my own, which usually relate to lack of content and story. Several months later, post DLC, I feel like our complaints are very different than they were. We're not so much complaining about story or even content, though that is still one of my biggest complaints. No, we're complaining about Destiny's foreseeable future based on what Bungie did with the current DLC. One of my friends even made the joke that Bungie "Nerfed" Destiny with The Dark Below (DB) DLC and in a way they did. Polygon's own, Daniel Friedman, posted a great write up that explains how the new DLC breaks Destiny's economy, loot, and upgrade system for the people who've been grinding since day one.
With that fact in mind, it's hard not to see what Bungie is doing to slow progress and keep their Guardians grinding into the foreseeable future. The entire system in Destiny is built on slowing you down similar to how a free to play cell phone game slows you down for not forking over real cash. Sure you just saved up 1 million units but those units are useless since that currency can only buy you the games lowest hanging fruit.  The same thing can be said about Destiny's Glimmer or even it's Ascendant Shards post-DLC.
Alleged Destiny DLC leak for 2015 onward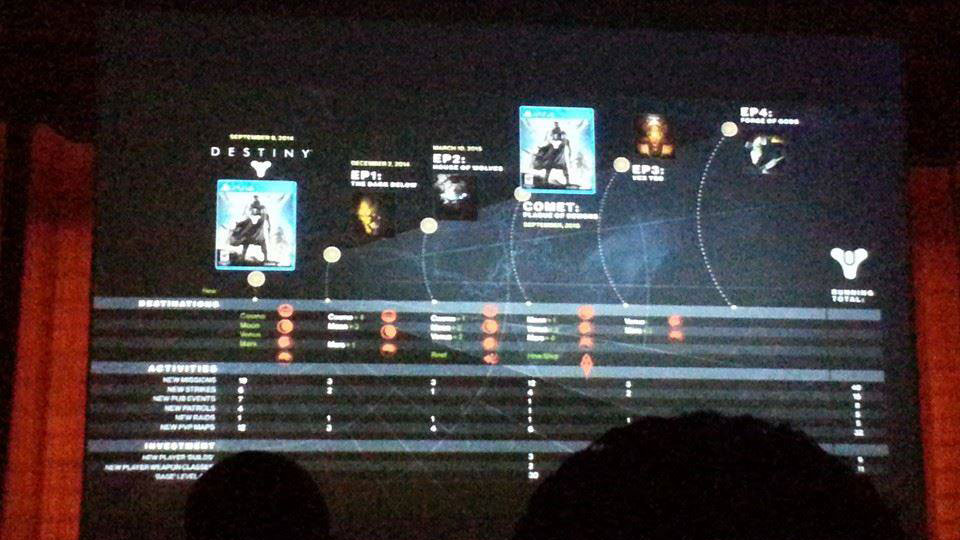 The above image supposedly shows Destiny's roadmap for 2015 onward. It's hard to make out from this blurry image but we can see the House of Wolves DLC will be released on March 10 along with an unannounced DLC called Comet, which appears to be slated for September. According to the image, Comet: Plague of Darkness will have new subclasses, weapon types, PvP maps, story missions, and locations. It's really hard to say at this point but Comet may actually be big enough to have it's own disc release. Let's back up a bit though.
I'd like to focus on the latter end of that list, locations. It's really hard to say what that means just from this blurry image but I'd reluctantly wager it means a new planet. But that also makes me very sad. It basically means, even after the House of Wolves DLC, we'll be grinding through the same tired locations and planets.
For me it comes down to getting your money's worth because really that's what it's all about or should be about as a consumer. Destiny, even with all my complaints and all it's problems, was definitely worth the $60+tax. I have dumped a stupid amount of time into this game more so than any game I've played before. That's kind of crazy when you think about it. I'm a huge Elder Scrolls fan and I've played Oblivion for about 300 hrs over the years. The difference is I felt like I did something in Oblivion. My character with his trusty bow and enchanted dagger was all I needed to run around Cyrodiil. How I wish Destiny was more like an Elder Scroll game.
It's hard not to speculate where Destiny is heading but if the latest DLC is any indication, I'd imagine even Bungie is still figuring that out.