You may have noticed things look a little different around here lately… Blanco and I started Humble Bazooka back in March of 2014 with only a pair of headsets and MacBook Pros. We knew we wanted to make a show about games for gamers like us – no fluff and mostly fart jokes. So here we are almost 3 years later with 69 episodes under our belt. I can honestly say it's been a fun ride with lots of learning along the way.
One year later…
Get to the point, Doomy
– El Blanco
I've been messing around with a new Humble Bazooka design for a little over a year. I'm a web designer and developer by day, and sometimes by night, so I love trying out new coding and designs for the web. The rub with working in the grown up world though is you can't always try out those new and fun things on client websites. Which is why Humble Bazooka has become my sandbox to mess around in. It's like an open world with god mode and no clip turned on. The only problem is knowing when to stop and be happy with what you've made. Otherwise, you end up tweaking the design and rewriting code until the sun balloons to a red giant and eats the Earth! True story, I've rewritten this thing several times to the point I'm not even sure why I still call it version 3 because it's more like version 5 or 6.
A lot less bloat everywhere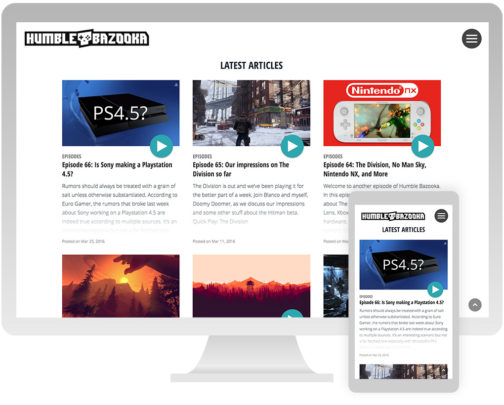 Last years version of Humble Bazooka (version 2) was really just a lateral upgrade from version 1 with some extra functionality to it and a lot more content all over the place. That's exactly what I didn't want to do with version 3. We really wanted to shift our focus to the Podcast, Reviews, and Videos. Because our focus changed, I was able to remove a lot of the sidebar, navigation bar, and footer bloat opening everything up. If Humble Bazooka version 1 and 2 were ornate colonial homes, version 3 is David Duchovny's modern home from Californication. I'm also a fan of Google's Material Design language so there is quite a few nods to that.
The Article Slider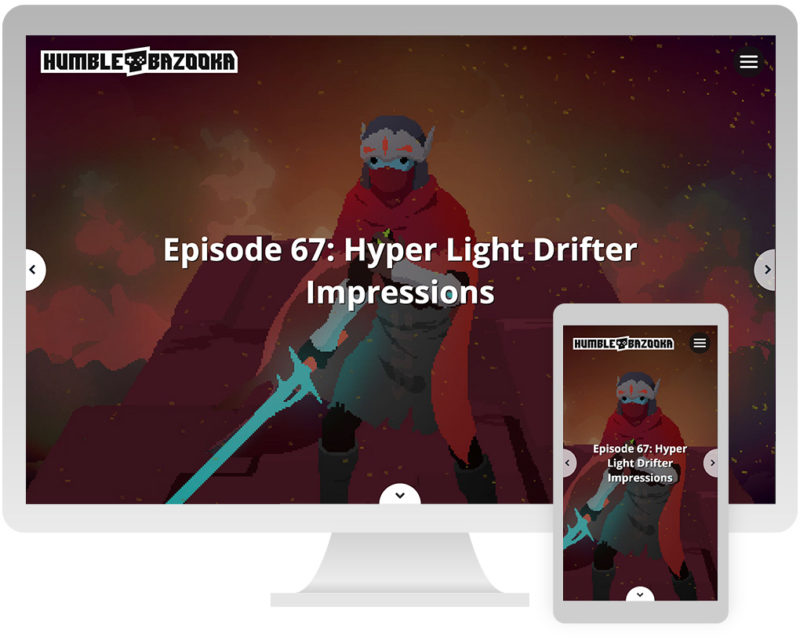 We don't post a ton of content so our old design looked very static at times. The article slider on the homepage helps break up the monotony with a bit of movement. In version 2, we could only have 3 posts stickied: one large and two small. With the new design we can add as many as we want and they're easily flipped through like a photo album.  The best part about the new slider is that it not only works on desktop but also on mobile. In an earlier iteration of version 3, I had parallax'ing with the slider/hero images but it was too hard on the browser so I pulled it in favor of performance. Maybe Version 4 will have some kind of parallax'ing if it doesn't crush performance.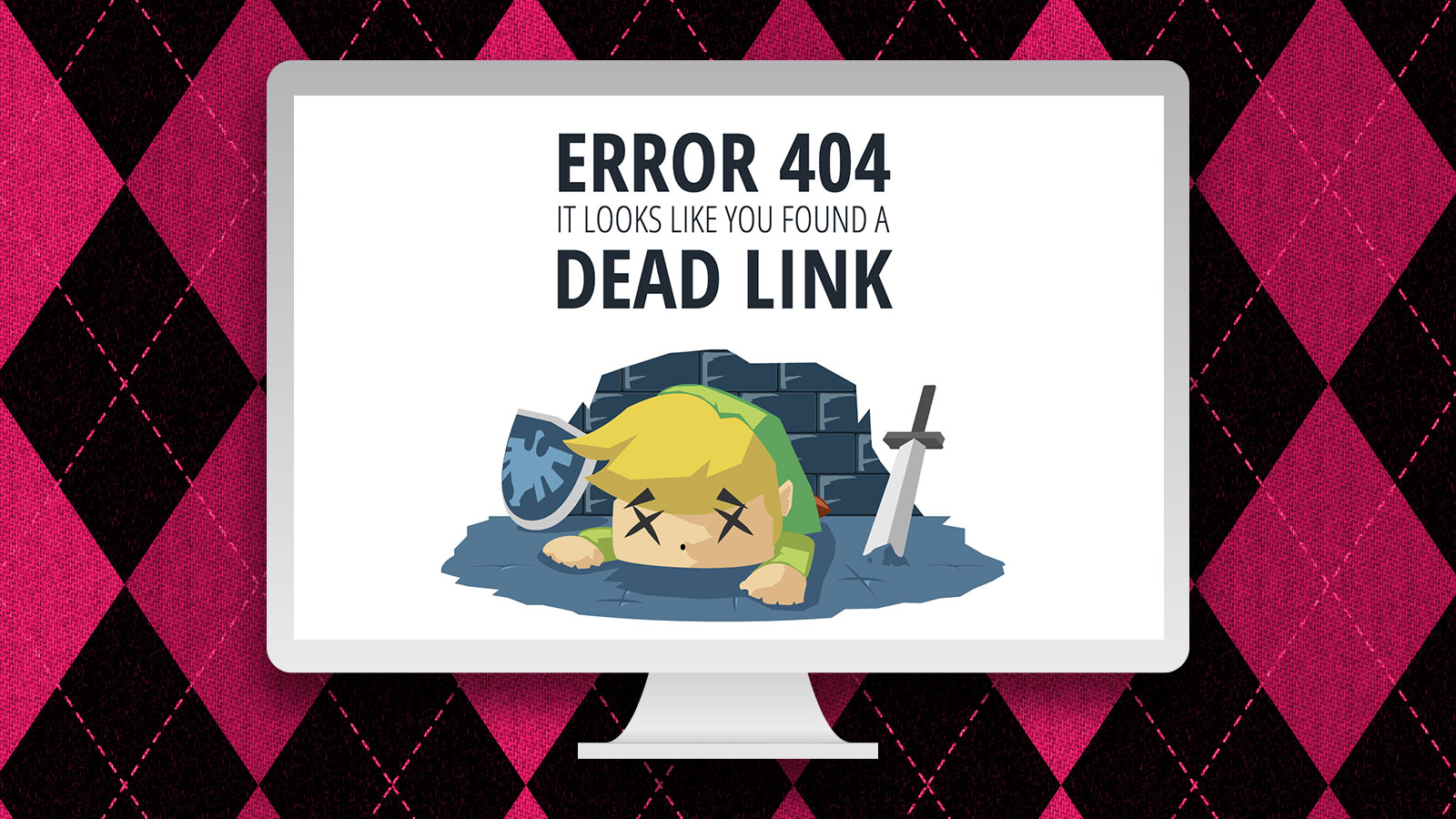 New interface controls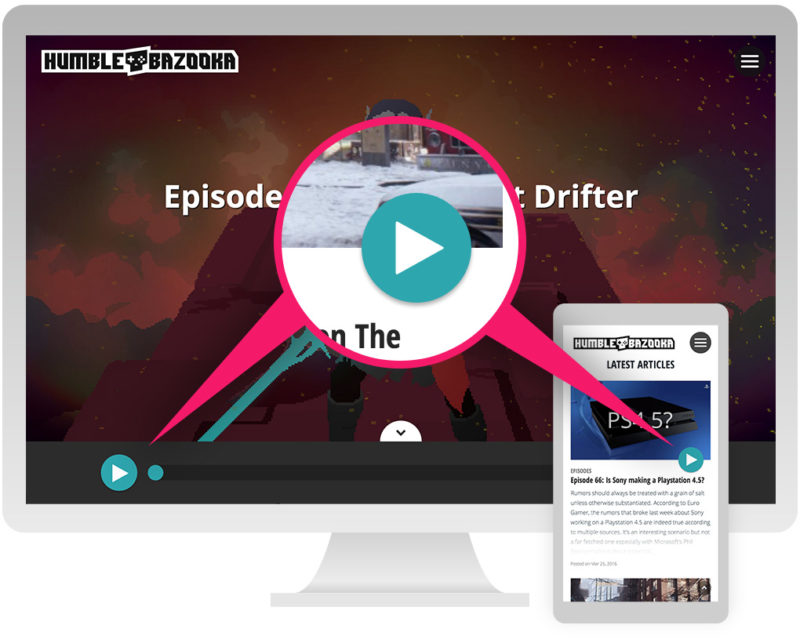 One of the things I've learned about web design over the years is that regardless of what the website looks like, if the user interface isn't easy to use no one is going to use is. So we really wanted to give that ease of control to our listeners and readers. One of the ways we made the interface better on index pages was the addition of a play button on each article excerpt that has media (like a podcast or video). This lets you play a podcast or watch a video right on the index page without having to go to another page. We also changed how the Podcast pages look with a floating player bar fixed to the bottom of the screen. And of course you can still pop-out the player or listen to it in iTunes.
New Logo
Lastly, our new logo. It's cleaner and more awesome. Bask in the awesome that is our new awesome logo!


Banner Ads
One of the ways we pay for our website is banner ads. On the previous versions on Humble Bazooka we wanted to try and pull in enough ad revenue to cover hosting costs. Spoilers: we made less than a tenth of what it costs to host Humble Bazooka in the two years we've been live, which is why I decided to cut back on the banner ads that aren't doing their jobs anyway. We cut 4-5 banner ads to 1 single ad. In the future, we'd like to host actual video game ads instead of just random Google ads but for the time being, enjoy all the extra white space!
Bugs!
As with all new things, there will be bugs. I'm already finding little bugs here and there and compiling a bug list. If you brave travelers find any bugs please report them in the comments below or email me at doomy[at]humblebazooka.com.
That's just a quick run down of some of the new stuff going on around here.