Description
We are no longer printing these shells. Please see our newer model the GBA Slab SP Remix Kit.
Use this shell to help convert your Game Boy Advance SP into a hingeless GBA. The original concept creator for this design is Xipher Design. He's created a very unique project that allows you to convert your Game Boy Advance SP into a hingeless SP. This shell comes in a duo-tone color combination.
This kit comes with everything pictured below as well as a battery door (not pictured):
The front shell consists of:
Front shell
Front shell back panel
L & R buttons
The back shell consists of:
Back shell
Battery door
Inner battery bay
You can choose to make the button plat match the front or the back color selections. Please keep in mind that if you've chosen to match the button plate to a dark colored back shell (i.e Black) and you've chosen a light front shell color (i.e. White or Yellow) you may see the button plate through the front shell.
Please note that this shell works with the following style of GBA SP screens: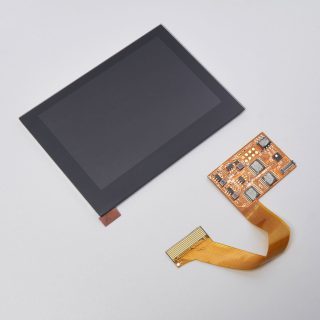 Funny Playing GBA SP IPS Screen
Install instructions:
This is a made to order item and takes a bit of time to print so please allow at least 3 business days for handling.